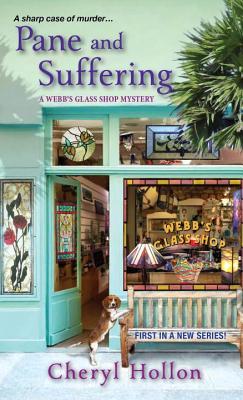 It hurts, so much, when you realize that you should have spent time with your loved one – and now it is too late. That is what happened to Savannah. She thought she had all the time in the world to catch up with her father, to spend time with him. She was so caught up in her life in Seattle, working as a glass blower, setting up her two-person show, and spending time with her friends that she never really paid attention to what was going on in his life – to the warnings she didn't catch until it was too late.
And now, it is too late. Her father is gone. And when Savannah comes back to Florida to turn his stained glass business over to Hugh, her father's long-time friend and coworker, suddenly Hugh is dead as well. Heart attacks? At first it seems so. But when Savannah receives a threat, and things start going sideways, suddenly things aren't what they seemed. Savannah is in danger, her father's business is being fought over by two slimy men, a property developer and a rival of her father's in the glass business, and Savannah has to rely on new friends to help her find the truth.
Her father left her clues. A former Cold War senior cryptographer for the US government, he was all about paranoia and secrets, games and puzzles. And unless Savannah can solve this last puzzle, she may not survive to return to Seattle. And she certainly can't depend on the cop who the police department sends around – he just pats her on the head and condescends. Pft.
"Pane and Suffering" is very much a "hobby read." As someone who enjoyed stained glass for many years, I truly enjoyed the story as Savannah spends her time teaching a beginning stained glass course while trying to find out who might have killed her father and Hugh. Ms. Hollon's knowledge of the craft shone through and took be back to when I was first learning. Her characters are funny and believable, her 'slimy' men creeped me out, and young Jacob, her father's apprentice who has Asperger's Syndrome, clutched at my heart. Add in a palette of colorful students, a handsome Brit pub owner next door who seems to have an agenda of his own, and a fairly fast moving story and it kept me interested through the whole book. This isn't some romantic "HEA" book – the ending was very good, as Savannah learns and grows, and there is an hea – a quite interesting, funny one.
If you like hobby reads, cozy mysteries, and interesting female characters, check this one out.
I received Pane and Suffering from the publisher in exchange for a realistic review. All thoughts are my own. And it has a nice cover too!
The next book is Shards of Murder, the second book in the Webb Glass Shop Mystery Series.