I think I will ask that my ashes also are dropped into the ocean in a bottle (a really nice Single Malt Scotch Bottle!) so that I can finally see the world as well… what do you think? would you want to?
A Nova Scotia man says plans are underway to fulfil the wishes of the late Gary Robert Dupuis after the mystery man's ashes washed up on the shores of Cape Breton inside a tequila bottle. Norman MacDonald says he was collecting trash on West Mabou Beach on Wednesday when he came across the Sauza Gold…
via Bottle found on Nova Scotia beach has a message, human ashes — and money for a drink — National Post – Top Stories
Originally posted on My Etch-A-Sketch Life: Great blog and Infographic that I wanted to share from Derek Murphy. I think this is a great summary on what to do as well. Take a peek below and check out the full blog via the link, good points well made; certainly worth your time. In the comments…
via 10 Things Indie Authors Do Wrong & 7 They Nail — Jens Thoughts
Virus: noun, plural viruses. An ultramicroscopic (20 to 300 nm in diameter), metabolically inert, infectious agent that replicates only within the cells of living hosts, mainly bacteria, plants, and animals: composed of an RNA or DNA core, a protein coat, and, in more complex types, a surrounding envelope.
"We knew that ancient humans were itinerant, and that they migrated over the erring Straits some 15,000 years ago, in pursuit of mammoths, right? That's how they crossed over from Asia to America. But, if they were successful 15,000 years ago, how long before that did they attempt to find a passage and not succeed? – Tally, Medical Microbiology Research Investigator, The Laptev Virus
As much as the 'naysayers' (and Republicans, and all the other stupid people out there) claim that global warming "doesn't exit" – it is sort of hard to deny when it is actually happening. Lands not seen for millions of years is becoming exposed. Soil untouched and unseen under the ice and snow, buried beneath the tundra. Until, of course, the oil companies arrive. Huge tractors, deep drilling. And people. People, who are about to discover that they aren't the most powerful beings on the ice. And the beings that are stronger and more deadly than they . . . are too tiny to even be seen.
Laptev Bay, where 30,000 years ago hunter-gatherer tribes 'chased the mammoths around.' And with both people and animals, where there is warm blood, there are bacteria, disease . . . and viruses. Viruses that can lie dormant for tens of thousands of years before blooming, moving, and spreading itself. Then there blood, death and insanity. But there is also greed. And no matter how deadly the virus, greed may be what destroys the world.
The Laptev Virus is, for me, a marvelous, adventurous tale based in known science and taken that tiny step farther to a "what could be" story that sends shivers down the spine. It isn't the thing for every reader – some of the reviewers gave it bad ratings because they apparently couldn't comprehend the science behind it, or were simply bored to death by it. I happened to love it. Anything that makes me think is worth reading, especially when it has a scientific bent. I was unfamiliar with the fairly recent 'Frankenvirus' findings in Siberia and other cold climates, and it is absolutely fascinating. (Click the photo to learn more about Mollivirus sibericum.)
The book is free on Amazon, so if the idea interests you, check it out.
Catharsis: noun, plural catharses [kuh-thahr-seez] The purging of the emotions or relieving of emotional tensions, especially through certain kinds of art, as tragedy or music.
It has been an "indoors" sort of winter for me. Bad weather just didn't encourage me to go outside, and I spent most of my time in my chair – hence my spreading backside! 😉 When we did get a couple of good days, well, as you know if you heard about it, a blizzard came along and put the kibosh to that . . . and it looks like it killed my fruit trees a well. Sigh. So, when the weather changed again, I fell on it like a ravening wolf, ready to drink in great drafts of the outdoors – and gardening!
The beds were left with all the dead plants rooted in over the winter. I wanted them to rot as much as possible in the ground, and pulling them up now instead of in the fall means I loosened up the soil when I pulled them. As you see from the photo, I have garlic, strawberry and mints coming up, hooray! They made it through the winter! I have already 'top dressed' this bed (spread several inches of composted manure over top) and I have one of the other beds done as well as about a third of the third usable bed. I will hopefully finish that one up later this afternoon. I got really worn out yesterday carrying the heavy mulch so I started filling the roughed out beds with mulch.
I have my seeds I saved from last year, and have added to those. My grow light setup came in, but now I have to figure out where I am going to put it. It is past time to get tomato, pepper, etc. seeds started before it is too late. As the setup is only 4'
long I am sure I will find a spot, but I have to do it today! I also have two other grow lights that I was given to test by the company I will be setting up today. Click on the photos to check out the listings.
As you can see, my manure heap is a lot smaller than it was. I want to get more, but you see, I have this little issue – as in a HUGE pile of chopped up trees in my driveway! LOL (And yes, is my finger in the photo – I took it after a looong day of working in the beds, and I was way tired and sweaty. Hey, want to clean out your pores? Garden! Digging in the soul is not only cathartic for your soul, it is works for your skin as well!) You can see how large the pile is
compared to my neighbor's big ol' pickup. Cool, huh? Free mulch!! A local tree company was cutting trees in my neighborhood after the blizzard and they were more than happy to dump them in the driveway. No having to haul them away and dispose of the mulch themselves. So, I got two full truckloads.
These two beds are going to be filled with the mulch up to the top and left to overwinter. Yes, those are ripped up phone books – the phone company will insist on throwing them in the driveway, though they have been asked not to. Ah well, more paper to rot! 😉 That big branch in the one photo has stumped me. My chainsaw will insist on throwing its chain and trying to take my arm off, and I finally gave it up for a bad cause and that limb will have to go to the pile of brush I have in the back corner of the back yard. Small animals like to nest in there – squirrels and certain birds especially. It is fun having a special habitat back there that is completely wild.
The rest of the mulch, after the boxes are filled, I will spread on the yard to rot. The soil here is horrible – just sand and more sand, which means weeds and more weeds.  I am hoping if I can dump enough mulch that over time it will allow grass to grow. But then, as I am careful of water usage, I would be just as comfortable just having the bark mulch stay in place without grass growing. Hum… we shall see. Of course, I am slowing eating away at the yard anyway.
Oh, look! All that lumber is still sitting there, waiting for me to build my cold frame! (Didn't I say I was going to do that last fall?) But I did find a solid glass door to use for a top (free, of course!) so I am putting together a list of the lumber sizes and figuring out what to use for the standing braces to bury in the ground and screw the sides to. But that is for later in the year.
Off to dig again, and I hope you all find a wonderful way to spend your Sunday as well!
Plant List for this year:
Hungarian Yellow Wax Pepper (medium hot orange-red 4,500-5,000 Scoville heat units)
Pasilla Bajio Pepper (chili negro for dried pods and powders)
Mixed Sweet Cherry Pepper (no named – for pickling)
Sweet Coral Belle Pepper (intense orange/compact and reliable
Pineapple Tomato
Mickylee Watermelon (not heirloom but it is small/8″-10″ so doesn't hog space)
Cube of Butter Summer Squash (tiny baby squash)
Baby Round Zucchini (French import heirloom)
Cascadia Snap Pea (I haven't grown peas before)
Sugar Pie Pumpkin (The dogs love dried pumpkin chips, and I love pumpkin bread)
Homemade Pickles Cucumber (I remember these from when I was a kid)
Monstrueux de Viroflay Spinach; Ruby Red Swiss Chard; Nero Toscana Kale (I have to tent these so the rabbits don't get it all!)
Two types of beets, red and golden, no name heirlooms
Saved from last year:
The Papaya Dew melons didn't work out for me last year, they never ripened, so I won't sew the saved seeds. I will send them to anyone who wants them!
Pineapple Tomatillo was Delicious!!! I put them in with all the other tomatoes before the first frost, simmered them down with lime juice and salt, and the outcome was amazing.
Persian Baby Cucumber (didn't get to plant these last year, ran out of room, but I plan to plant them this year in the flower bed in the back yard so they can spread. They are hybrid, so I don't want them mixing with my heirlooms. My other hybrids will go in the back as well.)
Red Siberian Tomato (Russian heirloom) grew well and were sweet and tasty
Ancho/Poblano Chilie Pepper (Always a favorite)
Black Beauty Squash (Heirloom. They didn't fruit last year, I think I will set them aside this year)
Black Krim Tomato (Grew wonderfully and tasted that way too. Very juicy, great for canning but too 'wet' for sandwiches)
Speckled Roman Tomato (Roma style striped tomato, very flavorful but only grew so-so)
NuMex Joe E. Parker (These, along with several other plants, never came up because I tried to start them outdoors and we had a brutal spring cold snap. Will try these again.)
I only have so much room, so one plant of each is all I can fit in. If I have enough compost I will try some of the hybrids I have in the mix in the back yard. We shall see!
"The world is indeed full of peril, and in it there are many dark places; but still there is much that is fair, and though in all lands love is now mingled with grief, it grows perhaps the greater." ― J.R.R. Tolkien, The Fellowship of the Ring
"I have come home at last! This is my real country! I belong here. This is the land I have been looking for all my life, though I never knew it till now…Come further up, come further in!"  ― C.S. Lewis, The Last Battle
Dayna Chrissie's life has changed, drastically, since she was first yanked, very much against her will, into  Andeluvia. There has been death and loss, friends made – and enemies as well. She has fought griffins and demons, dragons, and even magical deer (yes, magical Deer… and a psycho one at that!) She has been through Hell and back for her friends and the land of Andeluvia, even when those she protects demean and try to destroy her.
"Nothing could be more heart rending than this mute and motionless dispair" ― Émile Zola, Thérèse Raquin
Dayna Chrissie is a Crime Scene Analyst for the LAPD, but these days she only works there third-time while she spends the great majority of her time in Andeluvia. But Andeluvia hasn't been all that friendly to her. The nobles consider her an interloper, and as much as the King wants to hire her as his court Forensics Examiner he isn't willing to go against the nobles to force her into place. So, what is a King to do but dub Dayna Chrissie "Dame" Chrissie? But being a Dame has its own perils indeed. And unless the Owls release their death grip on the Andeluvian treasury, her Damehood may not last more than a few days before the whole of the country descends into anarchy and murder.
Ah, but there is more going on. The Darkness is growing, feeding. The Griffins have lost the majority of their aerie. The Fayleene have been forced from their devastated home, and though the Centaur community is standing stable? The Owls, ah the Owls. Dayna's friend Albess Thea is missing, and Raisah of the Noctua, a feared warrior sect of owls, has taken her place. And Raisah certainly does not the the welfare of Andeluvia, or even of the Parliament, at heart.
Sirrahon the Stone Dragon, ancient, cruel and released from his three-thousand year prison has disappeared, and no one knows where he might be. There are dark things moving, and in the Shadows the outline of a man lurks.  The demons are moving in the dark, and though everyone has seen what is happening, all are hiding their heads. All but Dayna and her intrepid crew, Grimshaw the Griffin, Liam the Fayleene Prince and Galen the Wizard who have been with Dayna through thick and thin, through war and death, but also through hope and understanding.
Michael's Fantasy and Forensics remains one of my favorite fantasy series of all time. Alternately funny and touching, painful and heartwarming, if you haven't started it yet, I can't encourage you strongly enough to do so. Andeluvia and its inhabitants will be sure to pull at your heart, your mind, and your soul. Enjoy!
I work with Michael on his stories, so I should say here that I received this book for free but all of my thoughts are my own.
"The world that we all knew before, could wake up in feeling safe… now it seems that everything has been turned upside down." – Tori Amos
Charlie Kale's life has turned upside down, in so very many ways. Her live-in got sick, so she took care of him, working her ass off as a semi driver. Then? He walked out on her. Don't let yourself be fooled – yes, there is a lot of just sitting there, when you drive. But there is a lot of stress, a lot of people cutting you off and acting stupid. And when you weigh 80,000 lbs. or more, getting started and stopped can mean death for the idiot in the convertible, the minivan, the SUV. But Charlie (and yes, that is what is on her birth certificate) loves her new job and her coworkers. Yes, she is torn up over the loser dumping her, but she knows she can pull it together and get on with her life – and this time she can start spending her own money.
Well, for about five minutes. Then? She is hit from the side by what appears to be a drunk driver, hit hard enough to knock the tandems out from under her trailer. The truck flips, which is bad enough. Hey, at least it didn't blow up and burn with her and the tiny dog she found on the side of the road not a half hour before inside. Her life is lying on its side, but they are both alive.
Annnd then . . .
What was that hairy black thing that slammed into her windshield? And then there is the guy with the blood on his shirt and the gun pointed at her head, seemingly determined to Shoot. Her. Dead. Wow. Attitude much? That is bad enough, but what comes next is a nightmare of unbelievable proportions. Everyone is apparently determined to murder Charlie, and her own body has apparently joined the party. An ancient secret society, populated solely by men, are determined to make sure that Charlie is put down before she can grow into who they think she is destined to be. Oh, and BTW?
Monsters are real.
Charlie is one of the most special female heroes I have run across in a long time, simply because she isn't really a hero at all. Chubby from too many hamburgers and too many hours behind the wheel, she is perfectly normal. Yes, once 'turned on' she has a 'superpower'. But it isn't one she can control. She can't kick ass and take names – she is more likely to trip over her own feet, which she does quite often. Stumblin' bumblin' trying to make it through the day, totally out of her element. But she is willing to at least try – though the whole idea of "Everyone is out to slaughter and I have no one to trust" and oh, BTW, that whole "monsters are real" thing? Yeah. Not so much fun. I love Charlie, and the supernatural storyline is unique and kept me reading way too long into the night, till I could barely hold my eyes open. And then? Well, I grabbed the second in this two-book series and kept reading, of course!
Monsters and Markers (The Markers Book 2)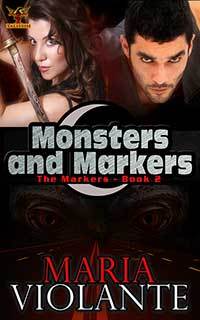 "I don't know of any other creature on earth other than man that will sit in a corner and cry because of some painful experience in the past." –  Pat Morita
Book 2 of The Markers series opens immediately after the first book. Charlie has finally escaped from the horrors of the Markers compound, but at a horrific cost. Oh, and let's not forget the whole Just-fled-for-my-life-and-was-ambushed-by-Captain-Anger-Issues-and-Mind-Rape-Man thing. Cause, ya know, her life isn't hard enough as it is, right? On the run, fleeing the most powerful secret society in the world, monsters beyond your wildest nightmares, weird glow powers she doesn't understand. And then you are stuck in the back of a Buick after a five hour drive with no bathroom breaks listening to the world's most annoying males bicker like preteens . . . can someone just please, please stop the world? Charlie is quite ready to get off and enjoy a little peace, quiet and safety, thank you very much. Instead, things go from bad to worse . . . to "Which one of these guys who are claiming to be determined to save me is really a traitor to our little group?"
I greatly enjoyed book 1, Birth Marked, and this second volume didn't in any way let me down. Maria Violante did a wonderful job in creating a believable supernatural world set within our own, and some really vile bad guys who are at the same time truly believable. I had expected a good second book, and I wasn't disappointed.