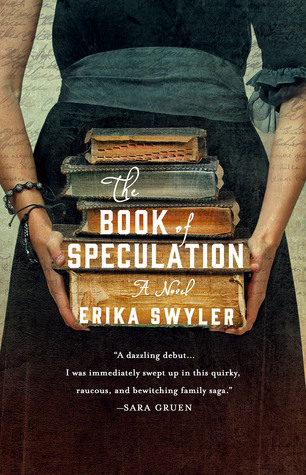 "But the heaviest things, I think, are the secrets. They can drown you if you let them."
― Ally Carter
"Let them think what they liked, but I didn't mean to drown myself. I meant to swim till I sank — but that's not the same thing."
― Joseph Conrad, The Secret Sharer and other stories
"There's a sucker born every minute."
― P.T. Barnum

Tragedy and loss are sounds. The slip of waves across rock. The cry of a loon across a dark lake. The patter of rain against midnight windows.
They are water, streaming from here to there, giving life. And taking it away.
His mother, Paulina, circus performer, fortune-teller, magician's assistant, and mermaid, walked into the water when he was seven. His father soon followed, destroyed by grief. And only Simon, and his baby sister Enola, remain. Simon, a lonely young librarian, who clings to the home he grew up in, which itself clings desperately to the edge of the cliff above the sea, falling to wrack and ruin, a mere memory, a ghost of the warm family home it once was. Simon, who lives alone while his sister, like her mother before her, lives the life of the circus, the carnival, reading the fortunes of the lonely, the lovelorn, the lost.
But then, the book arrives. And time begins to waver, back and forth through time, the past melding with the present through the words of yet another "walking shadow, a poor player, that struts and frets his hour upon the stage, and then is heard no more."* A poor player indeed, who struts and frets across a traveling carnival stage. There is magic here. Magic and pain and loss and death.
And drowning.
Always drowning.
Simon's tale reaches back, back to Hermelius H. Peabody's Portable Magic and Miracles Traveling Show. Hermelius H. Peabody, self-proclaimed visionary in entertainment and education. Hermelius H. Peabody, who one day comes upon a real Wild Boy – a Wild Boy who was left in the woods to die, and instead lives – lives, and learns to listen to the water. Learns to vanish.

"The Book of Speculation" is a small miracle. History and mystery, mysticism and the water. Always, always the water. A lost book, a lost soul. A lost history found, beliefs crumpled.
And the water sings, its quiet song of death.
I received "The Book of Speculation" from the publisher in exchange for a realistic review. All thoughts are my own.
Highly recommended.